Jusnote gives you the ability to create expense categories that are related to your legal practice or can be incurred for the benefit of the client. The created expense categories in the directory are used in different places of Jusnote.

Creating the new expense category

To create the new expense category or edit or delete one, you need to deep into the Settings section from the left sidebar and then tap on the Directories.

After taping on the Directories, the system will open the page where you can add the new category, as well as edit or delete the already created one. By default, several categories are already added to the system.

By taping on the "+Add button", you'll open the "Create expense category" pop-up window. Here you can enter the name of the new category, as well as select its type.

Clients expenses are expenses directly related to the client servicing (court fee, expense materials, etc.)

Internal expenses are expenses resulting from running the legal practice (office rental, office equipment, salary, etc.).

Clients' expenses, unlike internal expenses, will be included in invoices to clients.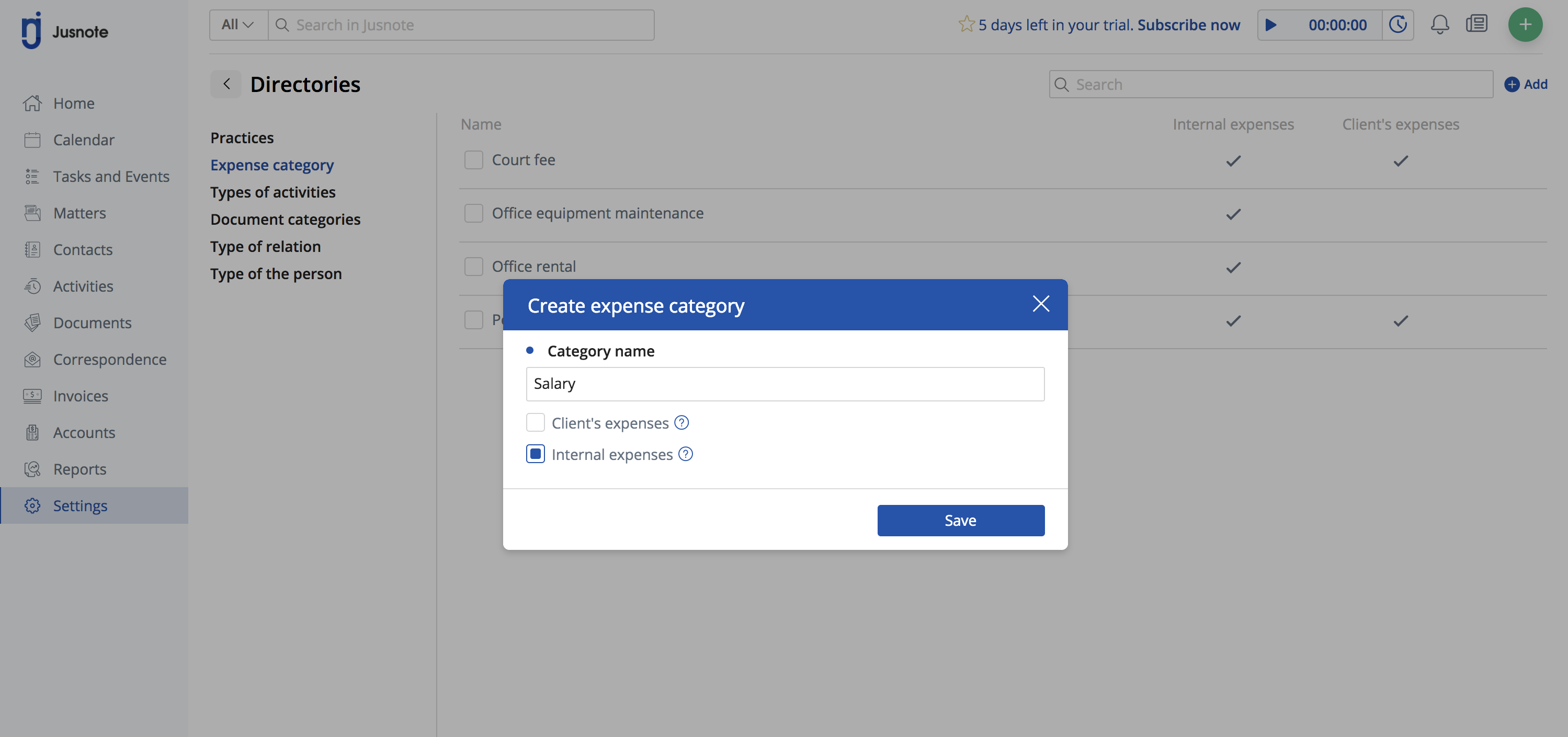 After saving the new expense category, it will be shown in different places of Jusnote.

Editing the expense category

On the Expense categories page, hover on the needed expense category, then 3 dots, and tap on Edit.


During the editing of the category, the system will open the save Create expense category pop-up window in which you'll be needed to change the name and the type. Tap on Save after editing the information.


The original (primary) data won't be saved anywhere in Jusnote after its editing and saving. The new name and type (in the case with editing) will be used in all matters, reports, filters, and other places of the system.

Deleting the expense categories

Select the needed category, as you did with editing, and then tap on Delete.



After deleting the category, it will be removed from all places of Jusnote, for example, from matters, reports, activities, and others. The places where this expense was used before will be empty.

Before editing, you will get the confirmation pop-up window. Tap Yes to confirm the removal.